Expanding Programming with Career and Technical Centers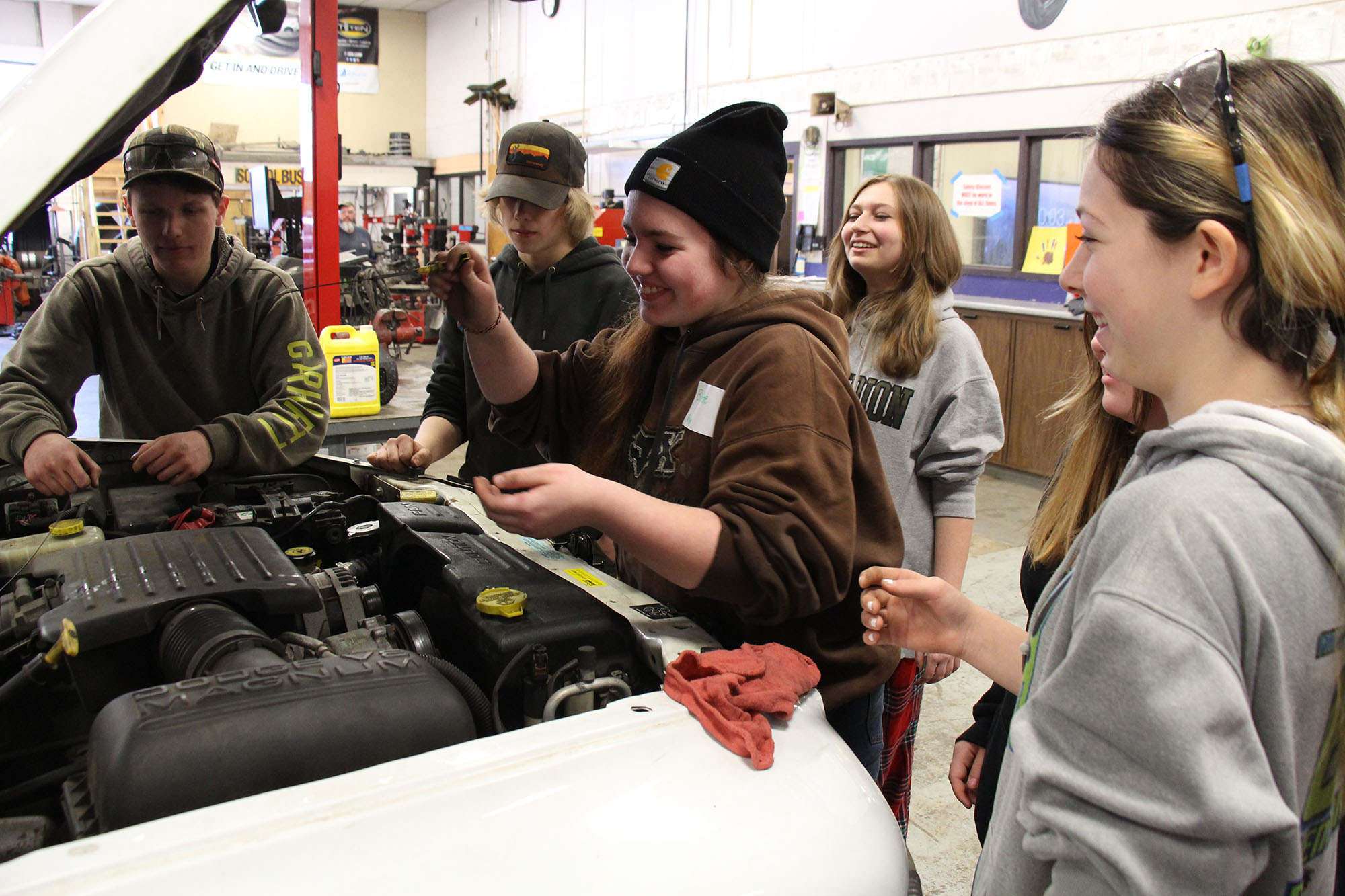 By VWW's Youth Program Team
Vermont Works for Women has partnered with career and technical education (CTE) centers across the state for more than two decades. We had a particularly busy year for gender equity training and programming. We connected with hundreds of youth at CTE centers throughout Vermont by hosting three Career Challenge Days, organizing various Tech@Work virtual presentations, and delivering youth and staff gender equity trainings.
Gender Equity Training
VWW, in partnership with Stafford Technical Career Center, offered a multi-part gender equity training that involved the entire center – staff, instructors, and students. Stafford is committed to fostering a supportive and respectful culture throughout the entire school community. VWW Gender Equity staff began with a professional development workshop for Stafford staff and instructors on implicit bias, microaggressions, and tools for creating safe inclusive spaces for all genders. Next, VWW Youth and Gender Equity teams worked together to build an interactive, engaging, and eye-opening conversation for high schoolers taking place over two days. We partnered with student leaders from Stafford, each representing different program areas and grade levels.
VWW staff and Student Leaders co-led the workshops over two days. Over 200 students attended our presentations this school year at Stafford! Students showed particular interest in the wage gap between genders and how that impacts one's lifetime earnings. These workshops also gave youth a space to learn about and discuss gender, bias, stereotypes, and norms. 
You may be wondering – why does VWW offer gender equity training for tech center students and staff? 
Tech centers are still male-dominated in most programs; girls and gender-expansive youth are significantly underrepresented in nontraditional programs like building trades, manufacturing, auto technology, etc. Many of these programs can lead to high-paying, in-demand jobs;

Trainings prepare students to successfully enter and excel in today's workforce and grow the enrollment of underrepresented students at your tech center;

 

Gender equity work supports students and staff in creating a sustained, school-wide culture of respect, diversity, and inclusion for all; and 

Strong cultures of respect, diversity, and inclusion can help increase enrollment and/or program concentration of populations that are currently underrepresented.
Career Challenge Days
In addition to gender equity training, VWW also co-hosted Career Challenge Day (CCD), one of our long-standing programs, with CTEs across Vermont this school year. CCD is an incredible opportunity for 6th-9th grade girls and gender-expansive students to visit their local tech center for a day of orientation, exploration, and empowerment. Students meet instructors, learn from current tech students, and try hands-on activities in each program.
Research and our experience prove that early exposure to STEM and trades career fields inspires more girls and gender-expansive students to enroll in their tech center and/or pursue fields where their gender is often underrepresented. CCD is also a fantastic opportunity for current tech center students to practice their leadership and teaching skills as they coach visiting students through using new tools, equipment, and other hands-on activities.  
"I liked that I was able to explore different things that women don't normally do." – RTCC Career Challenge Day participant
This year, Green Mountain Technology and Career Center, Randolph Technical Career Center, and Burlington Technical Center offered Career Challenge Day at their schools. In total, nearly 250 girls and gender-expansive youth were able to explore their local tech centers, preparing them to make informed decisions about their own education and career pathways now and into the future.
Tech@Work
We also partnered with Randolph Technical Career Center to offer a monthly speaker series for enrolled students called Tech@Work. In each session, a local industry professional – predominately women or gender-expensive individuals – spoke with students about their experiences in a nontraditional career field for their gender.  
These sessions introduced students to gender-diverse role models in their field of interest and also provided career exploration opportunities. Students heard from: Bor Yang, Executive Director and Legal Counsel for The Vermont Human Rights Commission; Demeny Pollitt, owner Girlington Garage; Cassie Mallabar, Electrical Engineer at Hallam ICS; Sharon Contillo, board president for Women in Film & Video New England; and others.  
VWW provides these programs and trainings as part of a full suite of gender equity services available to career and technical education centers and sending schools across Vermont. If you're interested in hosting a tech center program or gender equity training for your school, please contact VWW's Youth Program Manager Caelan Keenan at ckeenan@vtworksforwomen.org to learn more. We would love to help foster more equity and inclusion in your school!