Building Confidence, Breaking Barriers: Youth Empowerment in Trades and STEM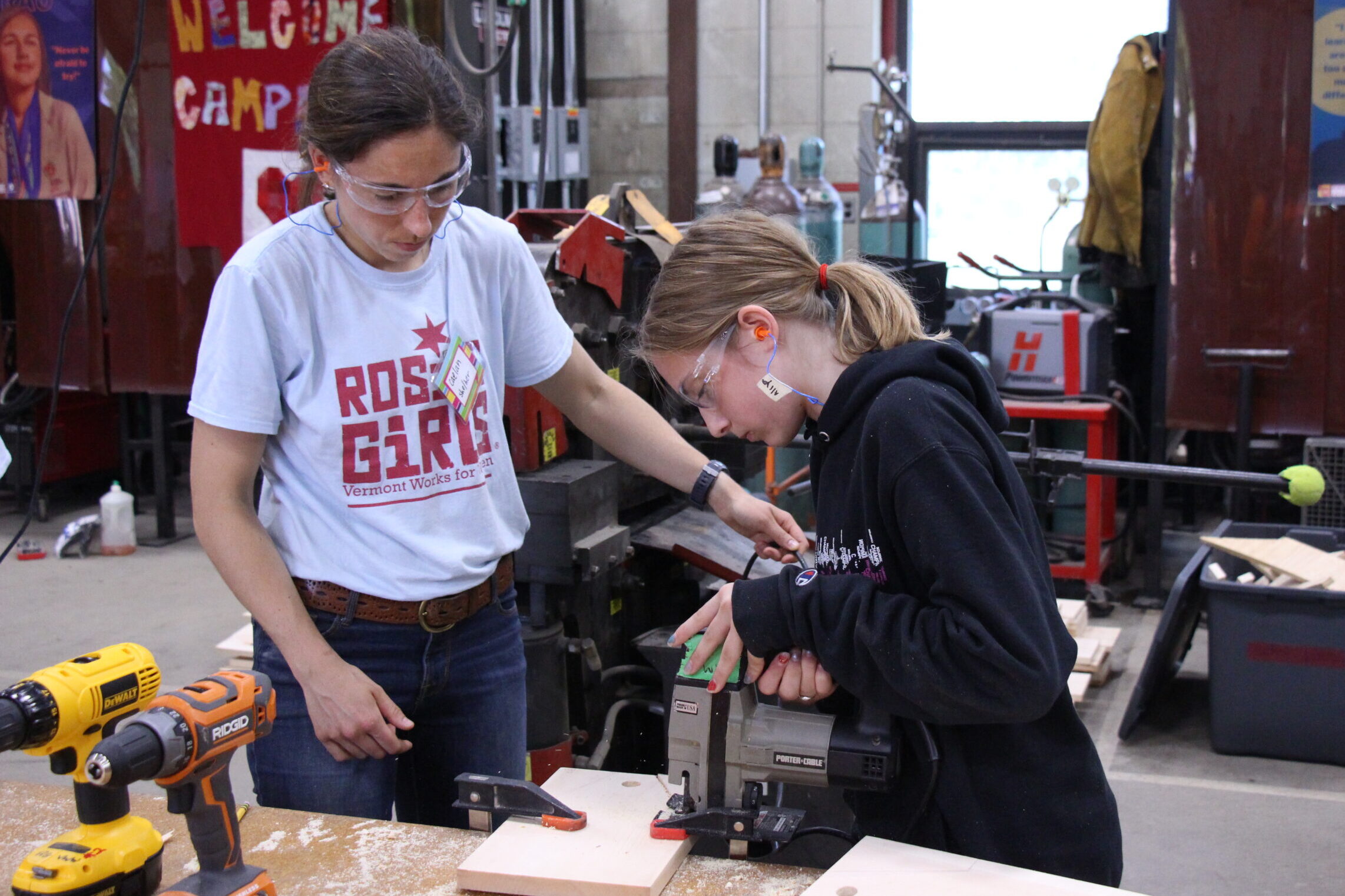 By Ellie Patillo, VWW Marketing Intern
Gender stereotypes affect children's career choices extremely early on in their lives, as early as age four, according to a study by Ashton Trice and Kimberly Rush. Gender stereotypes from parents and teachers about the type of professions boys or girls might be successful in can lead to girls lacking self-confidence in areas like science and math, which influences their career choices, states a report by the Organization for Economic Co-operation and Development. 
A lack of gender representation in STEM and the trades can also create barriers for girls looking to join these fields. These industries have a high gender gap, with women making up only 27 percent of STEM workers in the U.S. despite making up almost half of the entire workforce population, according to the U.S. Census Bureau. The gap is even worse for skilled trades occupations, such as the construction industry where only four percent of construction workers are women, states The Institute for Women's Policy Research. 
In the early 2000s, Vermont Works for Women (VWW) expanded our program offerings beyond trades training for women to offer career exploration programs for girls and gender-expansive youth, introducing opportunities in the skilled trades and STEM as early as possible. Through our programs, we aim to take a new approach to filling the current labor shortage in the skilled trades industry by diversifying the workforce and including women and girls in this vision.
According to Skillwork, 25 percent of manufacturing workers are 55 or older, but there are not enough workers to fill their places as these older workers age out and leave their fields. This labor shortage is even more exacerbated by the COVID-19 pandemic, says an analysis by PeopleReady Skilled Trades.
To build a strong trades workforce in Vermont, we need to introduce youth to these fields early in their lives, especially girls. 
Rosie's Girls
Camp
Rosie's Girls is our program for middle-school youth that empowers girls to learn entry-level trades skills in a powerful affinity space. Surrounded by other girls and gender-expansive youth and taught by women instructors, campers can feel comfortable being themselves and making mistakes, building their confidence in their abilities in a judgment-free zone. Offered in both afterschool and week-long camp formats, campers engage in career path exploration that expands their understanding of the variety of career choices available to them. 
Partnering with career and technical education centers and women industry professionals around Vermont, Rosie's Girls campers get hands-on experience with welding, woodworking, and more. The program also includes a social-emotional learning component that allows girls to forge connections with their peers and learn "Power Skills" to help them navigate school, friendships, and societal issues.
"We really just want to get tools into their hands and [for them] to feel that sense of empowerment and confidence that comes with doing something that you did not know that you could do and did not know was even available to you," says Marla Goldstein, VWW's Youth Program Coordinator who helps run Rosie's Girls. 
Of students who attended camp last year, 69% reported increased confidence in themselves and an increased sense of expanded possibilities. Our Rosie's Girls summer camp and afterschool programs are a fun way for girls entering grades 6 – 8 across Vermont to learn skills with their hands and see if the trades are a career path they could see for themselves.
In 2023, VWW is offering Rosie's Girls camp for free in seven communities across Vermont – Essex, Montpelier, Brattleboro, Rutland, Swanton, Lyndonville, and Alburgh.  
LIFT (Launching Inclusive Futures in the Trades)
This summer, we're introducing LIFT – Launching Inclusive Futures in the Trades – our latest program for high-school students who are between Rosie's Girls and a career in the trades. LIFT is offered in a program format similar to Rosie's Girls that includes lessons on skills including woodworking, welding, and electrician work, all taught by women instructors. Additionally, participants will engage with a breadth of professional development opportunities, including a career panel where they will hear from women who work in the trades or who have other careers that are nontraditional for their gender. 
All campers will also complete the Explorer Fellowship through the Harbor Freight Fellows Initiative and receive a $250 stipend upon completion. LIFT can help train any girl or gender-expansive youth who wants to go into a career in the trades or learn a few new skills, even if they don't attend a career and technical education center. We want to offer complete and continuous career exploration pathways for girls and gender-expansive youth in the skilled trades, bridging the gap between Rosie's Girls and Trailblazers, our adult trades training program. 
These programs rethink Vermont's approach to filling the skilled trades worker shortage and closing the gender disparity in these industries. Rosie's Girls and LIFT are also partner models, meaning that VWW works with partners around the state to implement these programs.
About working with others to run camps, Marla Goldstein says, "We are definitely 'yes' people! We want our programs to be able to reach as many youth in Vermont throughout the state as they possibly can." We are looking for interested partners who share our vision for addressing Vermont's workforce challenges to help us implement these programs state-wide. 
If you have any questions or want to become a partner for our programs, please contact Marla Goldstein at mgoldstein@vtworksforwomen.org.