Vermont Works for Women Celebrates its 35th Year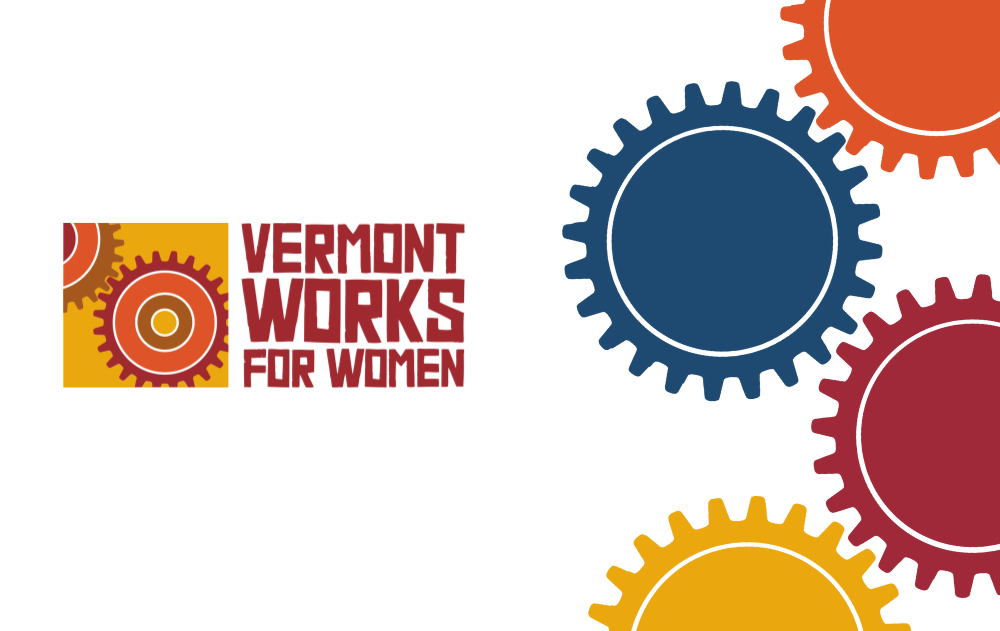 Founded in 1987, Vermont Works for Women has been working hard for 35 years to ensure all Vermont women can achieve economic security through employment. Our history has been shaped from its inception by gutsy women committed to the notion that women's choices about work should be their own—and not the product of gender stereotypes, bias, or discrimination.
As we reflect over the past decades, we are proud to have increased our capacity to serve Vermonters to ensure we are reaching the communities that need us most. We are constantly inspired by the women, girls, and gender-expansive individuals who continue to overcome challenges to pursue their life goals. There is still progress to be made – Please donate today, to support our mission of advancing gender equity in VT.
Training in Construction and Skilled Trades
Then: Step Up to Carpentry participants work together to carry a large panel of wood across the grass in 2002. VWW first started in 1987 as Northern New England Tradeswomen, training women to enter and succeed in the skilled trades.
Now: Trailblazers participants build a wheelchair-accessible picnic table in 2022. Our trades training work continues to this day in the form of our Trailblazers program, supporting the entry and success of women and gender-expansive individuals age 16+ in construction and the trades. This August we are launching Trailblazers: Green – a training program that prepares women and gender-expansive individuals for careers in the growing renewable energy sector.
Employment and Career Services
Then: : A Vermont Works for Women staff member provides one-on-one career coaching in 2015. VWW has always supported women to pursue their career and financial goals, traditionally serving those who face barriers to employment.
Now: Employment and Career Services Manager, Paige Ruffner works one-on-one with a participant in 2022. Our Employment and Career Services over the past 35 years have continued to expand to meet the growing needs of the communities we serve. Now our career services are open to everyone and include free 1-on-1 career coaching, virtual workshops, access to a volunteer career mentor network, and a self-paced online curriculum and resource center called Build Your Skills.
Support for Justice-Involved Women
Then: Women working on the Modular Home project pose by wooden framing in 2009. VWW has been a contracted service provider for Vermont's incarcerated women for over 20 years, providing an array of vocational programs and employment support, including the Modular Home program shown here.
Now: Program Manager, Heather Newcomb shares her support for individuals at Chittenden Regional Correctional Facility (CRCF). VWW provides transitional support services and employment assistance to women incarcerated at CRCF to support their successful reentry into the community post-release.
Rosie's Girls Summer Camp
Then:  Rosie's Girls campers and counselors pose in a Barre workshop in 2004. The Rosie's Girls summer camp program for middle school girls launched in 2000 in Essex, eventually expanding to communities across Vermont.
Now:  Rosie's Girls campers using word-burners to decorate the birdhouses they built in Barre in 2021. Over twenty years later, we are still hosting Rosie's Girls in Barre, and across Vermont. VWW usually runs two to three camps, and partners with schools or community organizations to run additional camps each summer. We've also expanded Rosie's Girls to include afterschool, which offers a similar curriculum to camp but spread out over the school year.
Tech Center Programs
Then: A middle school student tries her hand at a saw with help from a current Randolph Technical and Career Center (RTCC) student in 2009.  VWW partners with career and technical centers across Vermont to encourage female and gender-expansive students to pursue educational pathways in STEM and the skilled trades. Programs include the Tech@Work speaker series, gender equity training, and Career Challenge Day.
Now: A participant works on a project in the Auto Deisel Technology classroom at the RTCC Career Challenge Day in 2022. VWW's and Randolph Technical and Career Center's partnership is still going strong; almost 20 years later in March 2022, we hosted our 19th Career Challenge Day at RTCC. Career Challenge Day is a one-day career exploration event for middle school girls and gender-expansive youth at their local tech center. We have also partnered with Burlington Technical Center for many years, and have emerging partnerships with Green Mountain Tech, Stafford Tech, and other career and tech educational centers.
Women Can Do
Then: Participants of Women Can Do 2004 try using a chainsaw with the help of a female employer. The first Women Can Do career exploration conference was held in 1999 with high school girls from across the state gathering to explore careers in STEM and the trades.
Now: Women Can Do 2019 participants enjoy using a drill with help from a current female in a trades profession. Women Can Do has become VWW's signature annual conference, offering female and gender-expansive students the opportunity to explore careers through hands-on experiences and networking with local employers. We are hosting our 23rd year of Women Can Do on October 6, 2022.
We are incredibly thankful for all the support we have received over the past thirty-five years. There is still much work to be done – Please donate today.