Let's strive for more than the minimum for Vermont women and girls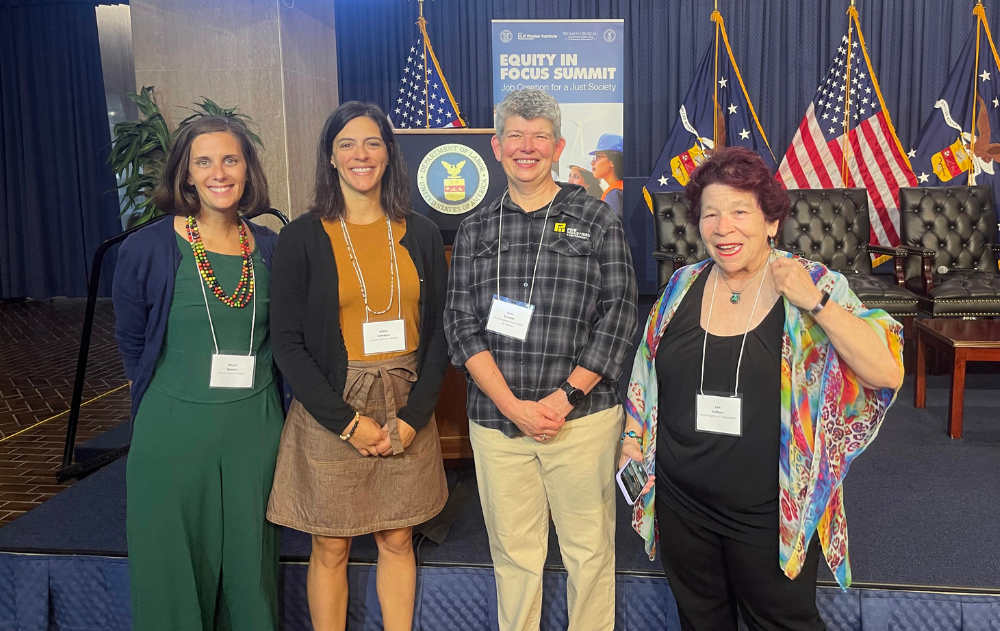 By: Rhoni Basden, VWW Executive Director
In 1965, a Presidential Executive Order called for equal opportunities for women and minorities to be hired for state contract work. These minimum targets, set at 6.9% female and from 0.8% to 17.3% minority participation, have yet to be met by any state in the U.S.
Vermont Works for Women began in 1987 to raise awareness about trades careers, encourage women to access trainings, guarantee career pathways to these industries, and create a supportive network among tradeswomen to address challenges. Our organization was founded to help meet the federal targets set in 1965 – and yet, in 2022 women still make up a small fraction of trades workers in Vermont (for example, they are just 2% of the construction workforce). And the pipeline for new workers isn't much better: nationwide less than 6% of registered apprentices are women, and female enrollment in non-traditional programs at Vermont's technical education centers still sits as less than 12%.
Vermont has not only the opportunity to address our workplace shortages and labor needs through the intentional recruitment of women, but the obligation to ensure that all across Vermont have equal encouragement, access, and training to enter these in-demand careers.
Earlier this fall, VWW joined eight other tradeswomen's organizations from across the U.S. at the Equity in Focus Summit in Washington, D.C. The goal: to move the needle on hiring more women into trades jobs by creating equity hiring plans for our respective states. Millions of dollars in funding will be flowing into Vermont from the Bipartisan Infrastructure Bill in the coming years, with direct incentives to states that hire more marginalized workers. VWW is a leader in our region in both training workers and supporting employers to recruit and retain women, and the work plan we help build for Vermont will create real opportunities for workforce growth. Will you donate today to help us keep up this momentum?
VWW is working towards economic justice for Vermont women and girls
Our Rosie's Girls programs bring together middle school girls and gender-expansive youth to build confidence, get tools in hand, and introduce the wide array of career options ahead. Last summer, Rosie's Girls reached 50 youth through in-person camps in Barre, Essex, Swanton, Windsor, and Rutland.
At Women Can Do, high school girls and gender-expansive youth spend the day exploring career pathways (like the trades and STEM) where women are underrepresented – opening their eyes to all the possibilities as they approach adulthood. After a hiatus due to the pandemic, VWW was thrilled to bring back Women Can Do in person this past October for a full day of hands-on career exploration for 250 high schoolers from all corners of Vermont.
Our women's programs work directly with women to support their career journeys, while also offering Trailblazers hard skills training in the trades to ensure job-ready, confident women that are motivated to enter these careers. VWW provided employment and career services to 130 women so far this year, and we have completed three successful cohorts of Trailblazers, including a new series focused specifically on renewable energy career fields.
We offer gender equity services across Vermont to ensure workplace and learning environments are inclusive and supportive of all. In 2022, VWW provided gender equity services to 25 employers and schools. We also launched the Gender Equity Advancement Roundtable (GEAR) membership program with 46 initial partners to continue learning and improving together.
So much has changed over the past two years, and there is more to come. We are seeing more women, youth, and marginalized voices across Vermont seek out new career pathways and explore their potential – whether just starting their journeys in school or finding a new path mid-career. VWW served over 700 Vermont women and girls this year alone and we recognize the need to grow our programming statewide to continue this momentum. We are grateful for the continued encouragement and support of our communities and donors – please support VWW today to ensure economic justice and equity for all across Vermont.