Culinary Program Gets Cooking at CRCF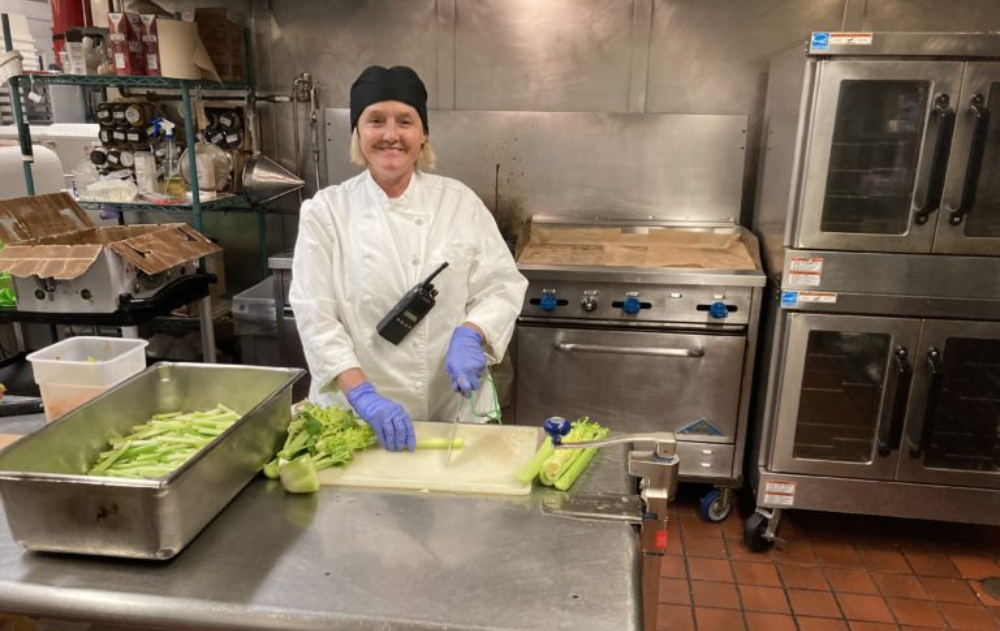 By: Heather Newcomb, VWW Program Manager for Justice-Involved Services
Vermont Works for Women (VWW) is continuing to run the pilot culinary program at Chittenden Regional Correctional Facility with our third cohort this winter. A big change we made to our program model for this cohort is to integrate guest chef instructors during the 12-week course. Our guest chefs also choose a featured recipe that showcases a new skill.
Our guest Chef instructors for this cohort are:
For example, Chef Brian plans to teach our trainees how to break down a whole chicken and plans to cook chicken parmesan and chicken francese. The featured recipe often compounds the lesson with additional techniques such as breading and pan frying in Chef Brian's case.
Culinary Program Overview
Each cohort of 4 trainees master skills used daily in the food service, such as knife handling, cooking methods, weights & measures, and menu development. Our trainees fully participate in choosing different recipes that help them practice their new culinary skills and develop life skills such as the power of choice. This program focuses on using culinary as the "vehicle" for experientially teaching life skills that build confidence improving trainees' self-image. When our trainees observe themselves in this program being successful with learning new skills, navigating obstacles (such as finding a substitute ingredient in a recipe), and bouncing back from making mistakes (like when your salad dressing emulsion breaks and you may have to start over), it convinces them they have those abilities when other life situations arise throughout the re-entry transition.
In addition to learning new technical skills, our trainees embark on a personal transformation and gain awareness of their areas for well-being. Throughout this program, trainees convert certain patterns of behavior that act as resistance toward reaching their goals. They gain a greater understanding that their past does NOT have to predict their future, and they have the POWER to change their course if they CHOOSE.
Many of our dysfunctional patterns were developed from a point in our past when we felt we lacked choice, and our method of survival becomes our default pattern. This culinary program deconstructs and disrupts those patterns to assist trainees in walking a new path of behaviors of CHOICE. When you make a mistake and burn something the first time, you could react in the same old way OR you can observe yourself brushing it off, regroup and start again, this time making new choices that produce a new outcome, a delicious dish that everyone can enjoy!
Some of our guest chefs go above and beyond teaching their culinary lessons by also being a presenter at Enrichment Night. Chef Leah Pryor and Janet Brown (HR Rep from UVM/MC) presented at VWW's monthly career exploration event this past October. Chef Leah shared her own pathway into the culinary industry, and the many opportunities to work in food service at the hospital. She spoke about the opportunities for advancement and professional growth that are offered to their employees. Janet was able to speak about the hiring process at UVM/MC and all the benefits offered to employees. She answered questions from the audience and was able to ease any concerns about whether a criminal record would be a barrier to getting employed at the hospital. Many women were excited to learn that their record doesn't automatically exclude them from consideration, and they would have the opportunity to discuss the context of their charges and share about their personal growth.
What's even more exciting with this cohort, is the additional opportunity these trainees will have to continue with VWW's programming through re-entry transition with the new addition of VWW's pilot program in Addison County. Our new pilot is a partnership that provides stable housing, employment, and wrap-around support to formerly incarcerated women. Our employer partner provides jobs to participants in the dining services department at Middlebury College, which continues that path of learning for our culinary trainees with longer-term goals to excel in the food service industry.