VWW Graduates Tenth Trailblazers Cohort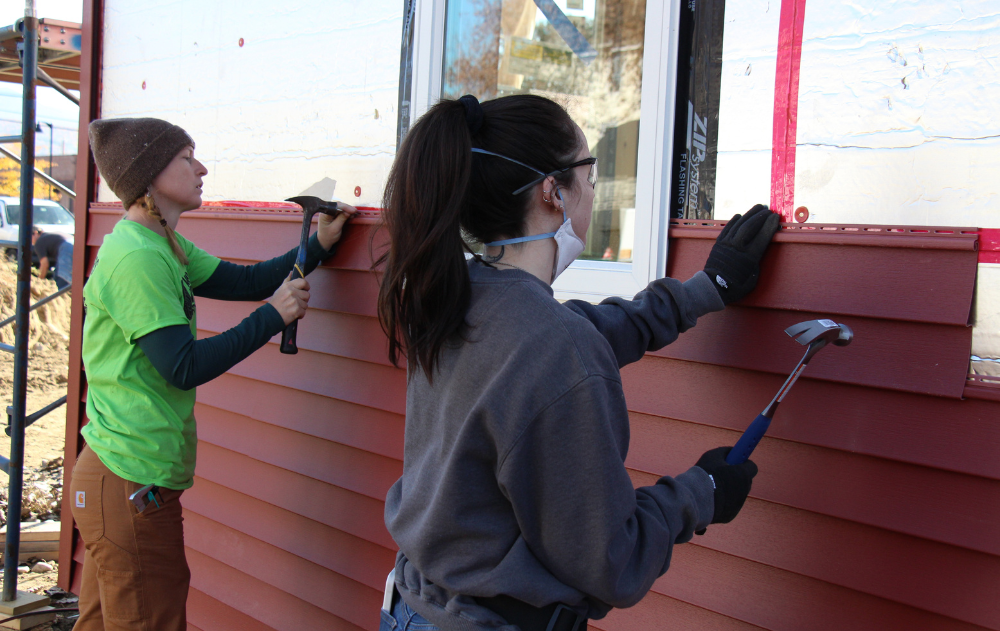 By: Jillian Scannell, VWW Development and Communications Coordinator
Vermont Works for Women (VWW) was back at The MINT for the graduation of our tenth Trailblazers class, training 91 women and gender-expansive folks in the skilled trades since 2019.
Eight awesome women spent the last seven weeks learning construction skills. They gained valuable hands-on experience, building their self-confidence in pursuing careers in the trades and spilling over into other areas of their lives. As one graduate put it, "This class was a game changer for me!"
During the first four weeks, students learned how to use hand and power tools, earned their OSHA-10 safety training, and passed testing for the National Center for Construction Education and Research's (NCCER) core curriculum.
Trailblazers put their construction skills into practice by spending two Saturdays at a Habitat for Humanity of Rutland County build project. Our participants helped install siding and insulation, and build a back porch. We are excited by this new partnership and appreciate the ability to give our Trailblazers hands-on experience and give back to the community at the same time.
In the theme of giving back, some of our Trailblazers traveled to Middlebury with instructor Morgan Over to tear down an old staircase at a house VWW will be utilizing in a new re-entry pilot project for justice-involved women. It took the Trailblazers just two hours to complete the project, and they did a great job! It is always exciting to work across our different programs that serve Vermont women.
Five participants interned with local employers in the final three weeks of class: Cota & Cota, Montpelier Construction, Naylor & Breen, and Silver Maple Construction. Just two days into her internship, one of our Trailblazers was offered a full-time position as a carpenter's helper. Two other interns are planning to extend their internship and another Trailblazer is going to join them.
During their internships, participants met once a week to build employment and networking skills during a mentoring event and job fair. At the mentor event, three tradeswomen shared stories about their experiences in construction and the trades. One mentor had this to say about being a woman on the job site, "You can do the same job a man can, but you don't have to do it the same way." Mentors and participants swapped tips and tricks about how to best use certain tools and better ways to wear a tool belt.
Before graduation on November 17, we held a job fair with representatives from BROC Weatherization, Hirschmann Architectural Windows and Doors, Middlebury College, UBC Millwrights, and the Vermont Agency of Transportation. Trailblazers took the time to talk with industry professionals and learn about local employment opportunities.
Afterward, while we celebrated the Trailblazers, instructor Morgan Over had this to say about the graduates, "Every single one of you, whether you want to or not, could work in the trades tomorrow. You all work hard, ask great questions, and really care."
The Trailblazers program is funded by many generous supporters including Canaday Family Charitable Trust and KEEN Utility.