Launching LIFT in Summer 2023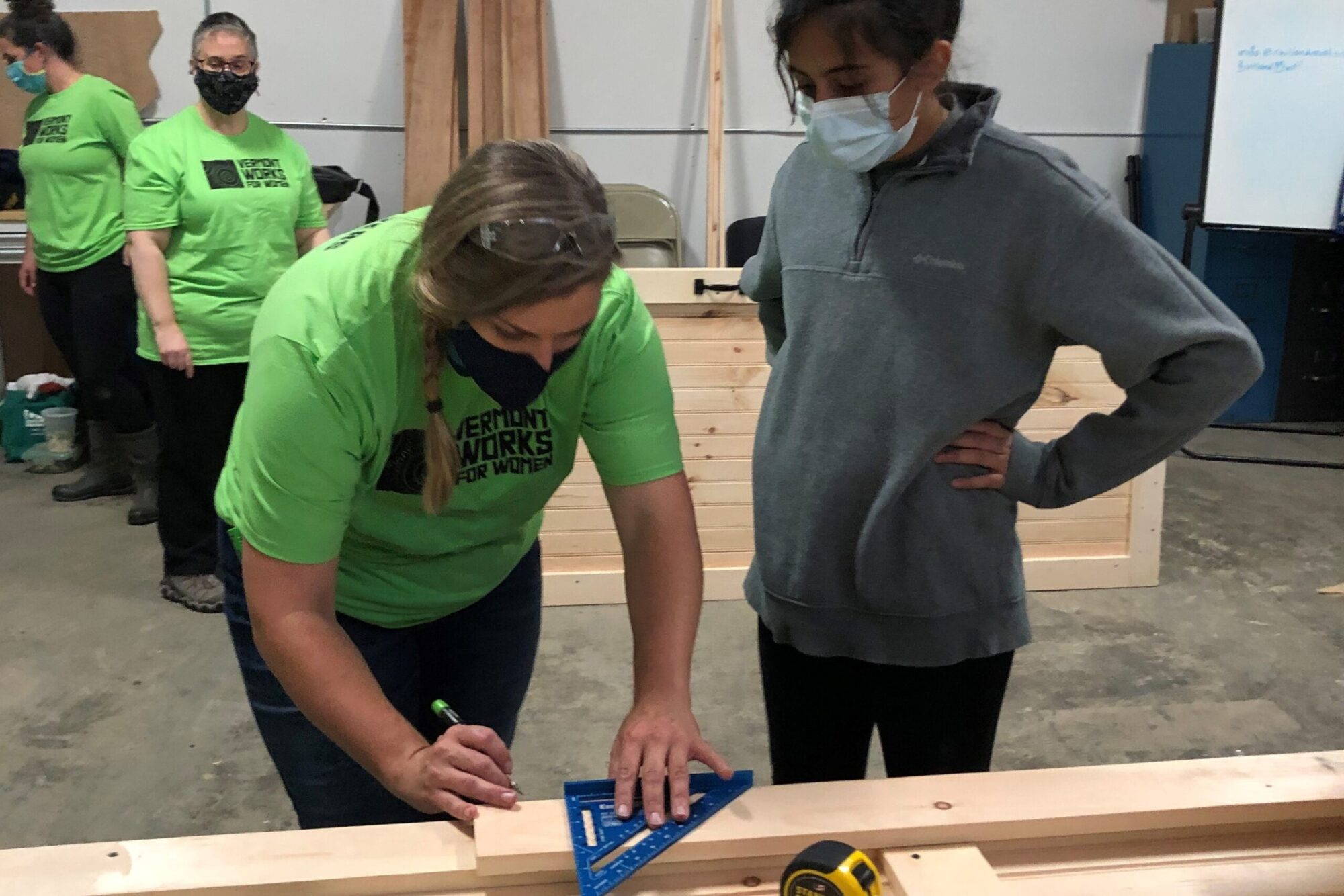 By Caelan Keenan, Youth Programs Manager
This summer, Vermont Works for Women is launching a brand new program designed to provide high school girls* with hands-on exposure to a variety of trades fields in a safe, fun, and empowering environment. The program, LIFT (Launching Inclusive Futures in Trades), is a free, one-week summer trades program for girls* entering 9th-12th grades in Vermont.
The inspiration for LIFT came from a desire to bridge the opportunities of our longstanding Rosie's Girls and Trailblazers programs and provide high school girls with a hands-on learning experience that is specifically tailored to their age group, maturity level, and eagerness to build new skills.  
The program is intended for any high school girl or gender-expansive individual who has an interest in the skilled trades and would like to pursue it further. LIFT would be a great fit for former participants of our programs for middle school students – Rosie's Girls camp or Career Challenge Day – or our annual career conference Women Can Do!
This summer, LIFT participants will build skills in carpentry, welding, and electrical work, and learn to use different tools, equipment, and materials. Our technical instructors are women who are trained and working in their respective fields. In addition to projects and shop time, participants will spend a portion of each day discussing personal and professional development topics to prepare for life after high school.
Our goal is for participants to leave LIFT with a greater understanding of the diverse and promising pathways available to them in STEM and the trades. By exposing them to women working in these fields (their LIFT instructors, guest speakers), we hope to build an inspiring and supportive environment for participants to learn from role models and mentors. Ultimately, our goal is to instill in participants a sense of empowerment and confidence as they choose their own paths – free of gender stereotypes or norms – and realize their potential.  
By participating in LIFT, all youth will complete the Explorer Fellowship through the Harbor Freight Fellows Initiative (HFFI) and receive a $250 stipend upon completion of the program.
HFFI is a partnership between Big Picture Learning and the Harbor Freight Tools for Schools program to elevate the respect and resources accorded to youth (and their teachers). HFFI supports youth for whom the trades are the appropriate and chosen post-secondary path to a fulfilling life as professional and community members–especially those who have been historically marginalized in the trades through race, ethnicity, or gender bias.
For LIFT participants who want to continue exploring the trades, a Full Fellowship is available from HFFI. Interested participants work with VWW and HFFI to identify an apprenticeship experience in a specific trade. Fellows must complete 120 hours of apprenticing and earn $1,000 stipend. 
PROGRAM DETAILS
Dates: June 26 – 30, 2023
Time: 9:00 AM- 4:00 PM, Monday through Friday
Location: Center for Technology, Essex: 2 Educational Dr, Essex Junction, VT 05452
VWW is accepting applications for LIFT through June 1. Learn more and apply today here.