Career Mentor Newsletter March 2023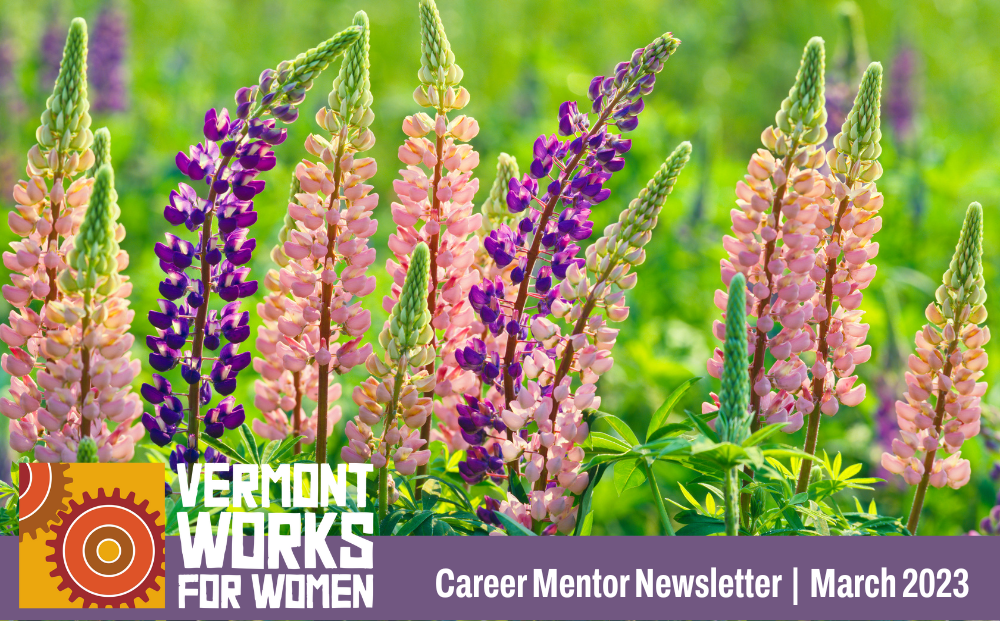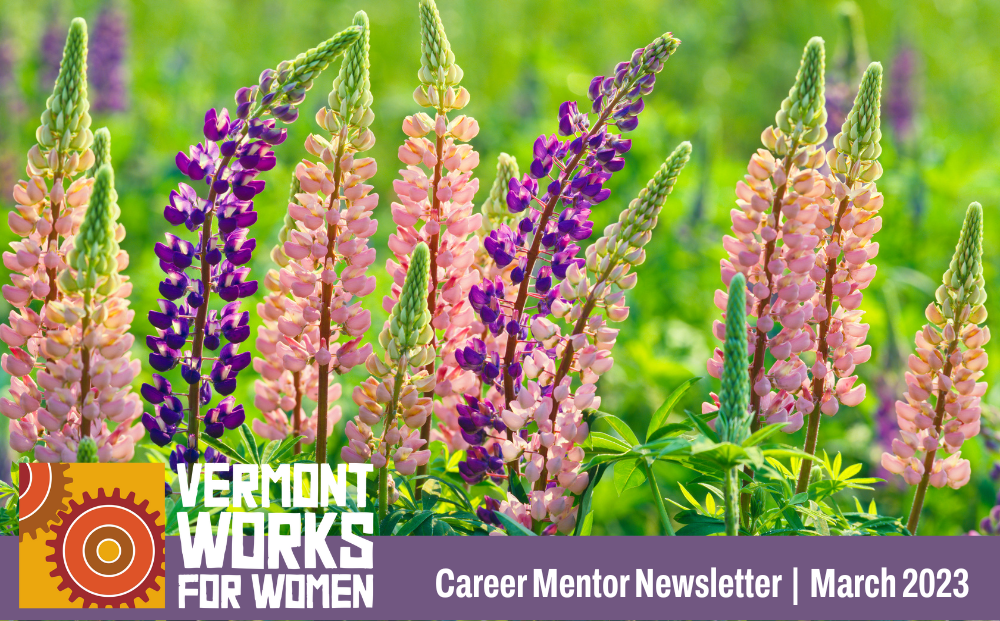 By: Jasma Stein, AmeriCorps VISTA
The quarterly Career Mentor Newsletter offers resources, tools, and updates about Vermont Works for Women to mentors in our Career Mentor Network. This month let's explore how the past few years have shaped the workforce here in Vermont and where women can make gains.
Vermont's Workforce: Where We're at & Where Women Fit In
Vermont's Economy at a Glance
In December 2022, Public Assets Institute published their 2022 report "State of Working Vermont." The report compares data collected from 2019 with where things stood at the end of 2021 and additional data from 2022 to assess how Vermonters are doing since the pandemic hit. Their findings show that Vermont's economy bounced back in 2021, with a large thanks to an influx of federal COVID relief funds. Increased Federal aid helped alleviate poverty and increase household income in VT during the pandemic.
However, the report warns these gains may only be temporary. As COVID relief wanes and high inflation slows local economic growth, Vermonters contend with economic challenges around life, home, and work exacerbated by the pandemic— only now, many face them without the same safety net as before. Importantly, the pandemic dramatically disrupted the state's workforce, especially for women.
When the pandemic first hit VT in early 2020, women lost around 23,000 jobs across the state while men lost 15,000. By June of 2022, women still hadn't recouped job losses. Whereas for men, they not only recovered jobs lost but surpassed pre-pandemic numbers. Like the rest of the country, women in VT have been slower to return to work since the pandemic. But is this by choice?
The report provides insight into some factors that may help explain why women haven't recouped jobs at the same rate as men in VT. For one, Public Assets Institute reveals that as of September 2022, there had been a 12% decrease in childcare providers since the start of the pandemic.
Additionally, many early childhood education programs struggled to say open during the pandemic and still face rising costs and staff shortages. The loss of childcare hurts women dually: 1) Loss of childcare work disproportionately impacts female workers, since women make up 78.9% the industry in the U.S.; and 2) The division of labor among families shows that women historically take on childcare responsibilities in the U.S. and are more likely to leave the workforce to supplement loss of childcare.
Another reason why women may struggle to recoup job losses is because of how specific industries in VT faired during the pandemic. Public Assets Institute reports that in VT, only professional & business service jobs have added to their pre pandemic numbers. Meanwhile, the industries that were hardest hit, "leisure & hospitality" and "education & health", are both historically female dominated professions, especially at entry level or lower wage positions.
These findings suggest women in VT may face steeper economic challenges ahead than men. However, the report does provide some hope. VT's overall employment rate has improved dramatically since the pandemic. This is an incredibly positive sign considering VT saw the largest drop in employment levels from 2019 to 2021 than any other state in the country, going from 347,000 to 316,941.
As of October 2022, the number of Vermonters who are working rose to 330,00. Importantly, now more than ever, there are organizations, community resources, and policy initiatives working to improve economic opportunity and access for all Vermonters. Below are a few organizations and economic initiatives leading the way, along with associated resources that could be helpful tools for career mentoring.
Vermont Economic Development and Local Initiatives:
The Vermont Futures Project is an independent non-partisan organization that focuses on data, research, and policy development to "support the evolution of VT's economy towards a thriving future full of opportunity for all."
Advance Vermont is a nonprofit that aims to promote VT's economy by growing the number of Vermonters with postsecondary credentials, advancing equity in educational attainment, and creating robust institutional career pathways that everyone can shape and share Vermont's prosperity.
The McClure Foundation promotes a more equitable and resilient VT by supporting organizations, programs, and services that expand and strengthen various career pathways across the state.
Vermont Works for Women: As our organization has evolved over the years, advocacy has become an important part of our mission. You can check out our legislative priorities on our  Advocacy page, along with these key resources:
Vermont Works for Women Announcements
Join us!
LUNAFEST on April 7th, 2023 | 7:00 pm.
Join us for an evening of film, drinks, and good company at Main Street Landing in Burlington! LUNAFEST®  is a traveling film festival of award-winning short films by and about women, and we're proud to present a screening of the 2023 LUNAFEST films here in Vermont!
Starting at 6:00 PM, there'll be a cash bar provided by Switchback Brewing Co and a raffle with prizes from awesome local businesses. The film screening begins at 7:00 PM. All proceeds benefit Vermont Works for Women –  Purchase tickets!
Help expand the Career Mentor Network
We encourage you to share the Career Mentor Network with your friends, family, and other personal or professional networks. VWW will be reengaging in recruitment efforts to expand the network in the coming months. Help spread the word about this opportunity for people to get involved in our mentoring program as either volunteer Career Mentors or participants seeking career support.
Explore our new website
Our recent website redesign brings more VWW color and meaning to your screens! This redesign provides you with the most relevant information on current programs, events, and more, and it does so in way that's accessible and easier to navigate. Our website also has cool new features, like our interactive search tools, events page, and more. We invite you to explore our updated website and learn more about all things VWW. Check out our new website!
Future Newsletter Content
We also want to hear from career mentors about what YOU want this newsletter to be! To share topics that you'd like included in future newsletters, please reach out to Jasma Stein at jstein@vtworksforwomen.org.