Career Challenge Day at Randolph Technical Center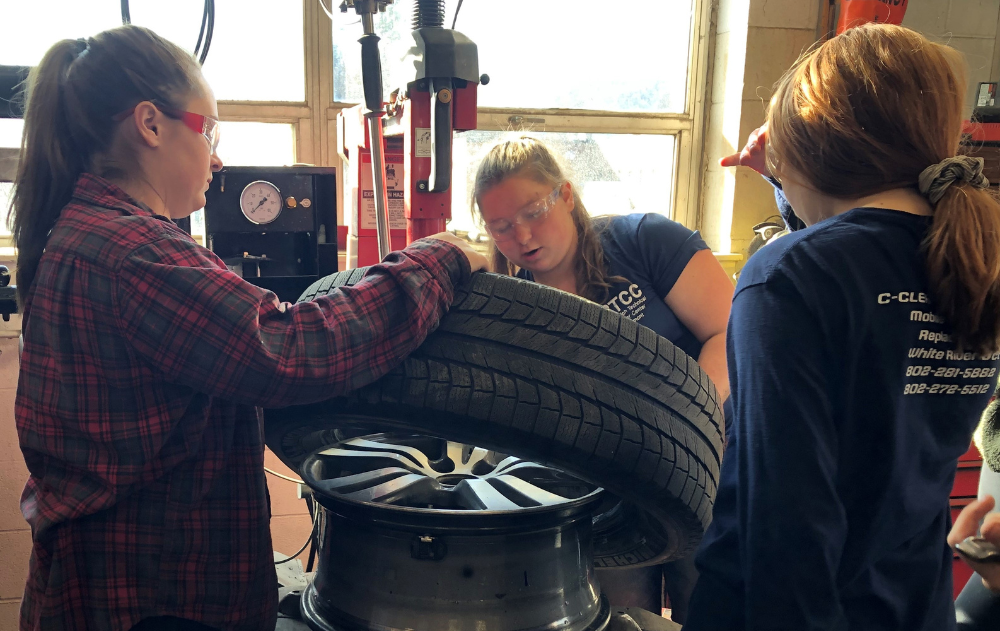 Vermont Works for Women held the 17th annual Career Challenge Day at Randolph Technical Career Center on November 21, 2019.
Career Challenge Day is a free day-long career exploration event that provides girls and gender-expansive youth in grades 6-9 with the opportunity to try hands-on activities at Randolph Tech in a supportive environment. This year was an incredible success and marked the first time that 6th and 7th graders have been able to participate in the event. We are pleased to report that 77 students (!) participated in empowering, hands-on activities in seven different non-traditional programs at Randolph Tech.
Our participants operated tractors and chainsaws, filmed their own short film, engraved their names onto wooden plaques, changed car tires, learned how diesel engines work, and so much more. We are immensely proud of each and every participant, and we want to thank everyone who helped make Career Challenge Day possible for these students.
In response to the question, "What did you like most about today?" participants said: 
Construction
I liked Advanced Manufacturing
Everything!
Diesel and Automotive
We got to have a lot of fun and hands-on activities.
Criminal justice
Digital filmmaking
Doing construction and trades and woodworking
That I had fun with other people I didn't know.
I really liked using the chainsaw
In response to the section, "Additional Comments" participants said:
I liked how the classes were put together
I liked how polite the teachers/students are and how well they teach!
I love this place
I loved everything so much!
Also, check out this excellent article and video of the event that NBC5 published about the event, found here.