Vermont Students Explore Careers at Women Can Do 2022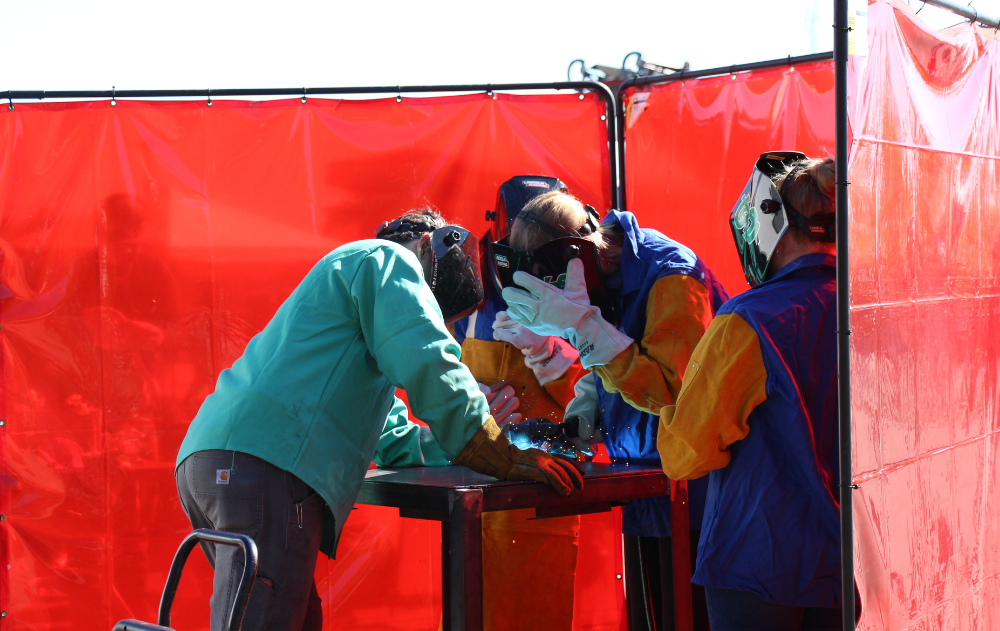 By: Elaine Ezerins, VWW Communications and Marketing Manager
The excitement was palpable as buses began to pull up to Vermont Technical College's campus in Randolph, VT in the early hours of Thursday, October 6. High school girls and gender-expansive youth were arriving from all over the state – representing 12 of the 14 Vermont counties – to participate in Women Can Do!
What is Women Can Do?
Women Can Do is Vermont Works for Women's career exploration conference for high school students and after a three-year hiatus due to COVID-19, returned in person last week.
The conference focuses on providing high school girls and gender-expansive youth with hands-on opportunities to explore STEM and skilled trades careers led by Vermont employers and community organizations.
We believe that you can't be what you can't see. So at Women Can Do, students learn about career fields and roles and get a taste of the day-to-day job expectations through activities led by Vermont female and gender-expansive professionals.
Women Can Do 2022
The conference started with a Welcome Ceremony at Judd Hall, providing students with an overview of the day and pumping up the energy with a Women Can Do chant from the bleachers. Then, students and chaperones were divided into groups to explore three career exploration stations throughout the day: Resource Hall, Indoor and Outdoor Action Expo.
In the Resource Hall, students could connect with local employers and community organizations offering learning and future work opportunities and community resources to support students' career advancement. The 30+ exhibitors present included ReSource, VYCC, Advance Vermont, Vermont Commission on Women, and many STEM and trades employers who sponsored the conference.
At the Indoor and Outdoor Action Expo, students were encouraged to jump in, get their hands dirty, try something new, and explore a variety of careers at over 40 different stations. Students learned new skills like welding and how to change a tire. They had the opportunity to fly a flight simulator with BETA Technologies, operate a backhoe with the Vermont Agency of Transportation, and intubate a "patient" with Vermont Technical College. Students interacted with a robotic dog named Spot with Global Foundries, cut a tree trunk with a two-person crosscut saw with Green Mountain Club, and got behind the camera with Vermont Media Factory.
Check out NBC 10's video coverage of Women Can Do 2022!
What did students have to say about Women Can Do 2022? 
One thing I learned about myself today is…
"I can do anything I put my mind to." – 11th-grade student, Arlington School
"There are so many more careers I am interested in!" – 10th-grade student, Long Trail School
"I like heavy machinery." – 11th-grade student
"I am more capable than I thought." – 11th-grade student, Arlington School
Thank you to our staff, exhibitors, volunteers, sponsors, and Vermont Technical College for making Women Can Do 2022 such a rewarding experience!