Five Ways to Involve Coworkers in Gender Equity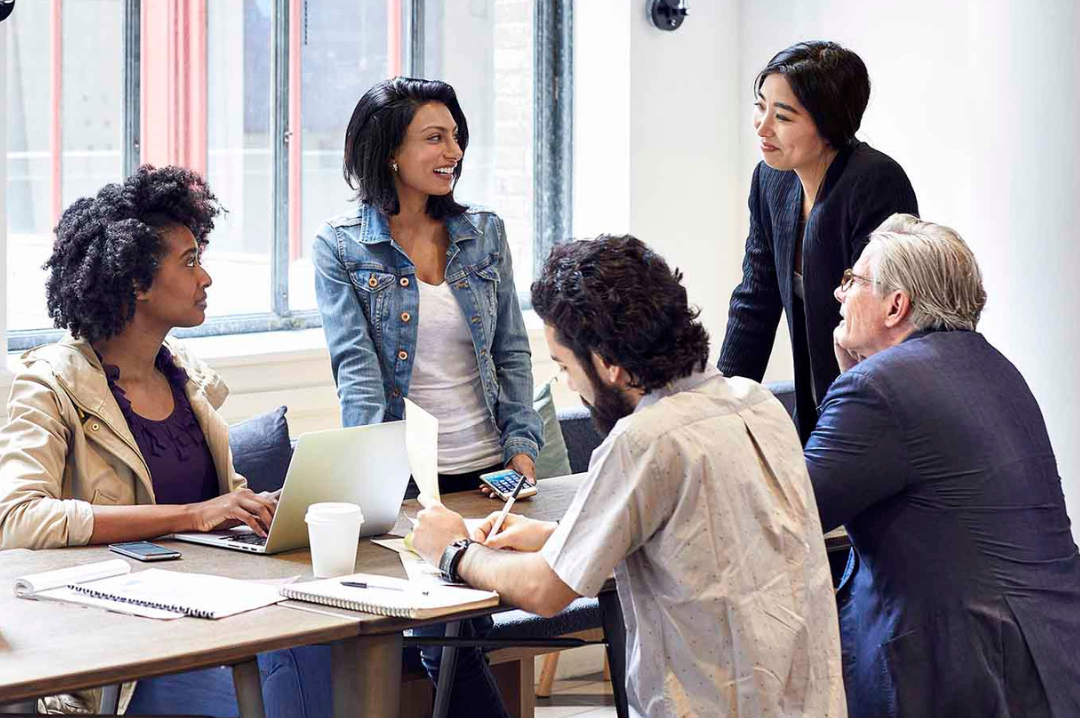 By Ellie Patille, Intern at Vermont Works for Women
Gender equity in the workplace is crucial to giving women the support they need to do their best work. This means going beyond just gender equality – employees having the same access to opportunities and resources – to correcting the inequities female and other marginalized employees may experience.
The Center for Creative Leadership found that companies with a higher percentage of women in their workplace had more job satisfaction and less burnout across the company. This means that everyone benefits from having more female employees. However, if a workplace is not equitable, then women may not able to do their best work and leave their positions.
To create an equitable workplace, employees at all levels must get involved in order to truly create a supportive environment where everyone can thrive.
It can be frustrating when the issue of gender equity is raised and your coworkers aren't interested in contributing or don't understand why change is needed in the first place. Or maybe your coworkers feel like it isn't their role or they don't know where to start.
Whatever the reason is – if you want your coworkers to start investing in creating a more equal and inclusive workplace for women, start with education on why this work is important and engage them in action steps moving forward.
From a leading expert in gender equity in Vermont, here are five ways that you can get others involved in gender equity work in your workplace:
1. Fighting unconscious bias
One way to jump right into working on gender equity is to inform your coworkers about hidden biases against women, which include thoughts or beliefs we may hold about women that we don't consciously recognize. Some examples of unconscious biases against women are:
Likeability bias: According to a Medium article, when women assert themselves, we like them less because we expect women to be kind, whereas we do not have the same negative reaction towards men who are assertive. This bias may present itself in a staff meeting when someone is listening to a female coworker talk and thinks that they're being pushy or bossy, while when they listen to a male coworker speaking with the same tone, they see them as being a leader.
Motherhood bias: Female employees who are mothers may also experience bias around their identity as mothers, including being viewed as less competent or committed to their work, says an article from Science.org. For example, mothers may be passed over for promotions or additional projects that could contribute to valuable career advancement because it is assumed that they won't have enough time to devote to the assignment.
Performance review bias: According to Harvard Business Review, the open-ended nature of performance assessments leads to an increased reliance on stereotypes, including stereotypes about gender, when giving feedback. Specifically, women are more likely to receive shorter and more vague performance reviews focused on communication skills, while men are more likely to see longer reviews focused on their technical skills.
To promote equity for women in the workplace, it's important to bring attention to these unconscious biases and encourage everyone to attempt to correct their biases in order to treat women with the same respect given to men.
2. Giving proper credit to female coworkers' contributions
Once attention is brought to biases against women in the workplace, it's important to move forward in addressing the specific areas where women may experience these biases.
One way to do this is to encourage giving proper credit to female employees' contributions that may otherwise be overlooked. For example, explaining that elevating a good point or idea from a female coworker is great, but crediting her for the idea and giving her the space to talk about it is even better.
Another suggestion is to remind coworkers to bring up the work that others, including female coworkers, have done well when in more informal, one-on-one conversations with supervisors.
3. Sharing office "housework"
Another simple way to even out the amount of work being done by male and female employees is to review who does office "housework" tasks and create an office policy where everyone shares these responsibilities equally.
Small tasks outside of a job description like making coffee or taking notes at a meeting often fall to women, which goes along with unconscious biases we may hold about women as nurturing or as caregivers.
It's not only important to bring awareness to these contributions that often go unrecognized but to also make official policies to change these practices going forward. This will help create new office norms where men and women share office "housework" equally and can also allow women more time to focus on work that will contribute to their advancement and earnings potential.
4. Creating mentoring opportunities for women
One of the reasons men are sometimes considered for new jobs or promotions while women are left on the sidelines is due to mentoring relationships. According to a Forbes article, most mentorship pairs are between people of the same gender.
A great way to give women more support and opportunities in the workplace is to have people in leadership positions mentor male and female employees equally. Mentoring can look like a number of different things, such as a supervisor meeting once an employee month in person to go over goals and steps to achieve them, or even an employee in a different industry chatting virtually with an employee to give them tips on switching roles.
Encouraging mentorship is an easy, non-threatening way that leadership can support female employees with resources and connections to help with their career advancement. With mentorship, women can gain more useful knowledge for navigating their field and be considered for more opportunities than if they had not been mentored.
5. Participating in gender equity training
Does all of this seem overwhelming? One way to ensure awareness and understanding of equity issues in the workplace is to undergo gender equity training across your company or organization. Suggesting this to hesitant coworkers while reminding them that we are all constantly learning lets them know that you will all be doing this work together and that you value everyone's contributions to gender equity.
To learn more in-depth about best practices for creating gender equity at your workplace, sign up for GEAR 2023 with Vermont Works for Women. GEAR is a program that gathers Vermont companies, organizations, and individuals of all backgrounds together to learn how to support women in the workplace.
By joining GEAR, you'll be invited to meet four times throughout the year to hear from gender equity experts, consult with VWW, and network with other Vermont employers. Learn more about GEAR and sign up today at: https://www.vtworksforwomen.org/program/gear
Want support that's more individualized to your organization? Vermont Works for Women also offers other, tailored gender equity services to Vermont employers, including a gender equity workshop series, workplace focus groups, and job description and workplace culture consultations. Learn more at: https://www.vtworksforwomen.org/program/gender-equity