February Break Fun with Rosie's Girls at the Generator Makerspace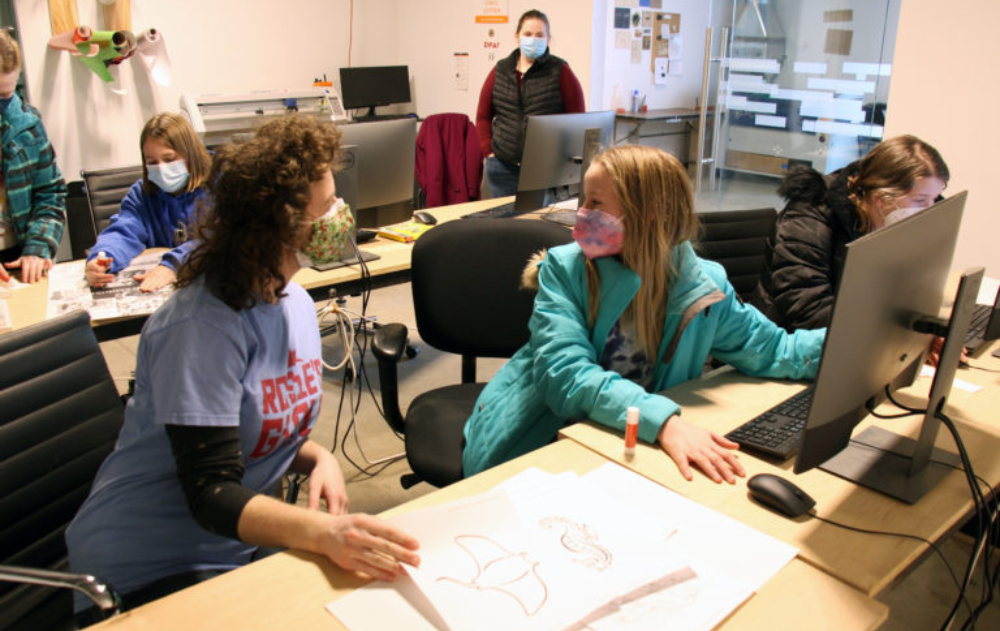 By: Elaine Ezerins, VWW Communications and Marketing Manager
What are you passionate about? Female empowerment! The Ocean and its inhabitants! Mental Health and Neurodiversity!
These were the responses of middle school youth participating in Vermont Works for Women's Rosie's Girls at the Generator makerspace in Burlington, Vt. this February school break. Once they landed on a topic, each camper found inspiration in photos, art, and quotes, and created a poster-sized collage.
Exploring one's passions was just one of the Power Skills the campers learned at Rosie's Girls camp in the afternoon sessions with Vermont Works for Women. Power Skills activities and conversations are designed to expand campers' self-confidence, sense of possibility, and connection with one another all while exploring topics important and relevant to middle school youth.
In the mornings, campers built and customized Pinbox 3000s, a DIY cardboard pinball machine that combines engineering, art, and game design all into one – perfect for National Engineering Week! The participants also explored the Generator makerspace, which houses artist studios, classrooms, and business space as well as offers training in a variety of creative tools.
Thank you Generator for partnering with us to offer middle school girls and gender-expansive youth this opportunity to engage in three days of STEAM activities and connection this month.
Coming soon: registration for Rosie's Girls camps this summer. Stay tuned!