Trailblazers in Rutland Graduate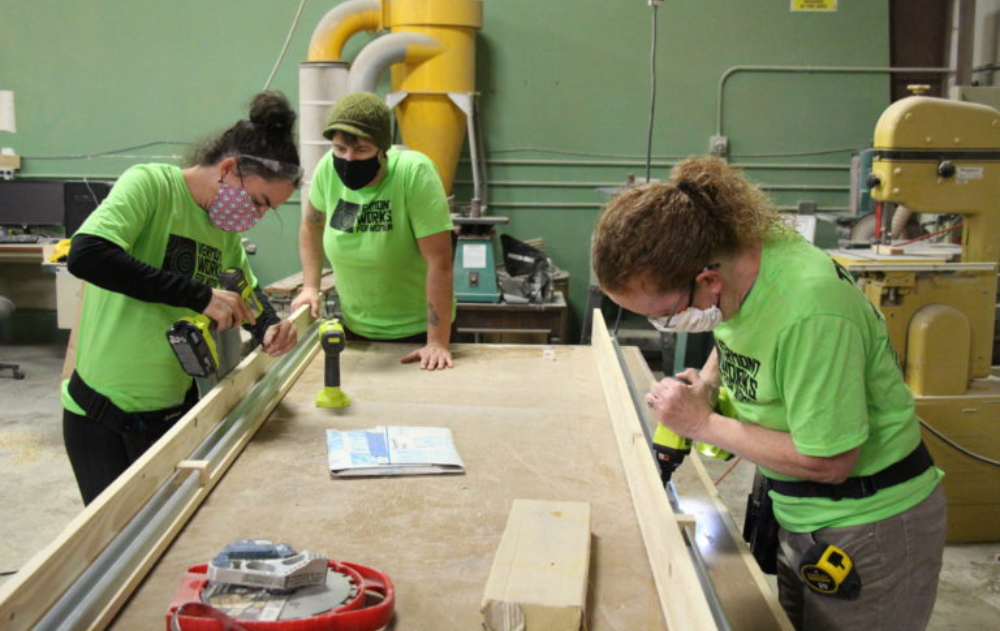 By: Missy Mackin, Trailblazers Program Manager
Vermont Works for Women (VWW) recently reached another milestone on November 19th when eleven women graduated from the first session of Trailblazers in Rutland. As part of our strategic goals to expand throughout Vermont, we were excited to partner with The MINT makerspace to train participants in basic carpentry, electrical, plumbing, and manufacturing skills.
Through instruction from VWW staff around job search and self-advocacy, mentor events and speakers, and internships with local employers, Trailblazers participants also learned more about themselves while gaining practical knowledge about the trades.
Each Trailblazer earned credentials from NCCER (National Center for Construction Education & Research) and OSHA and increased their self-confidence through working with experienced tradeswomen/instructors Morgan Over and Tammy Ellis. Completing NCCER modules on hand and power tools, construction math, blueprints, and material handling provided the foundation for hands-on practice through projects such as the construction of sliding doors for the classroom, wiring electrical boxes, and even making a giant wooden Vermont sign with The MINT's CNC router.
Having access to all the fun tools and equipment at The MINT was a bonus for everyone involved, as they took advantage of everything from the router to the pottery kiln—and got a tour of the cookie-cutter manufacturer next door too. Some of the graduates received job offers and plan to continue building careers in the trades, while others will use their newfound skills to help others through Habitat for Humanity and similar local organizations; still others are more confidently pursuing their personal and professional goals with an increased sense of empowerment.
As one Trailblazer put it, "I walked away with new skills I can apply in my everyday life, and I now feel more confident to explore a possible career in the trades. The participants and teachers were all excellent as well!"
We can't wait for the next collaboration with the wonderful people at The MINT and are already planning the next Trailblazers for Chittenden County, slated to run from April 4 through May 21, 2022. Stay tuned to our website for details!
The Trailblazers program is funded by many generous supporters, including VEIC Founders' Fund, Encore Renewable Energy, Keen, Hoehl Family Foundation, Berkshire Bank, Canaday Family Charitable Trust, and The MINT.