New Program LIFTs off in Essex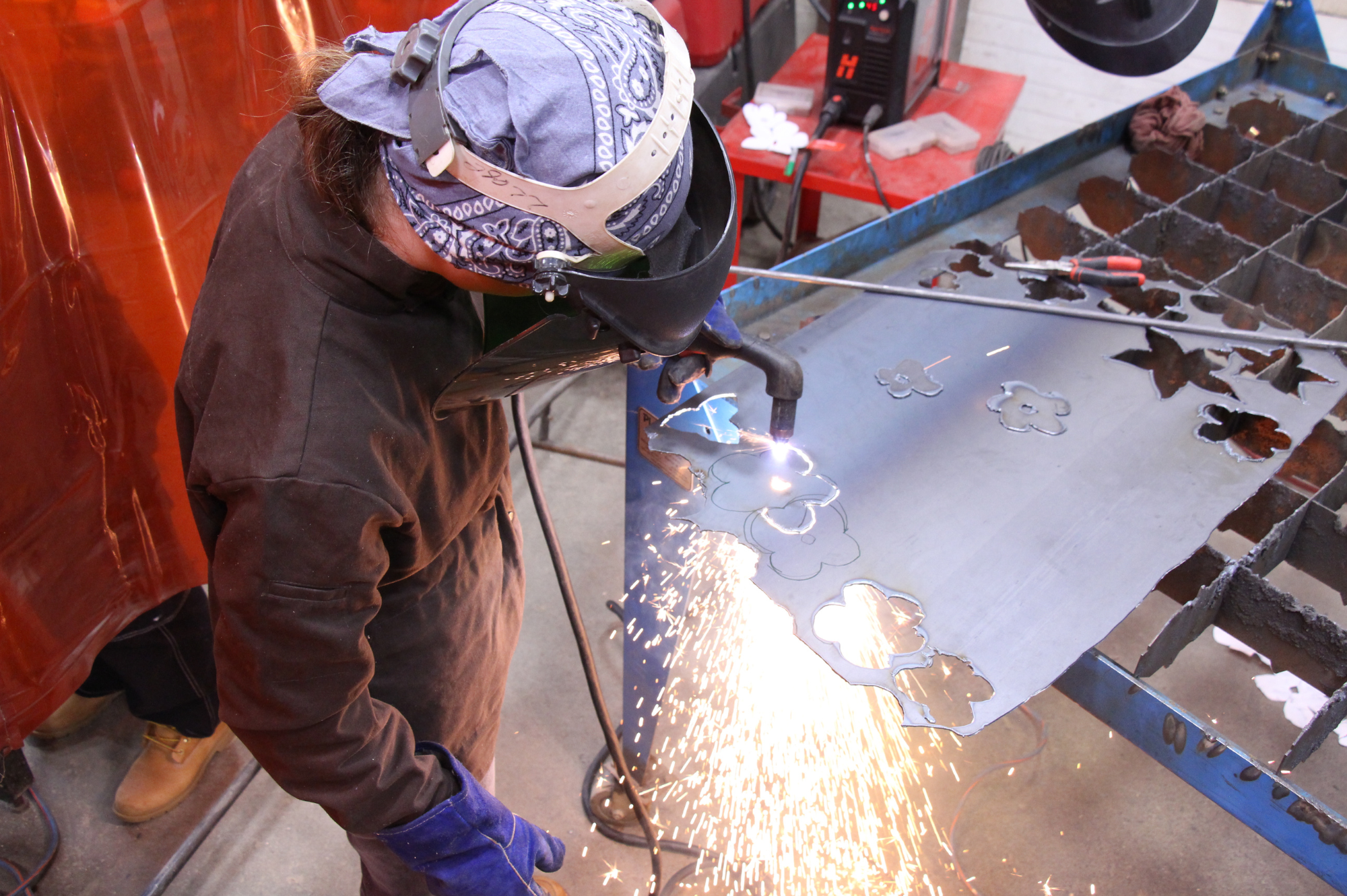 By Caelan Keenan, Youth Programs Manager
Program Launch in Essex
In June, Vermont Works for Women successfully piloted LIFT (Launching Inclusive Futures in Trades), a week-long summer trades program for high school girls* at the Center for Technology Essex. The inaugural cohort of twelve high school girls learned about a variety of trades in a safe, fun, and empowering environment.  
Through hands-on learning and projects, participants explored three trades (carpentry, welding, and electrical) taught by female technical instructors trained and working in their respective fields. The program was free to participants, thanks to generous contributions from Carhartt's For the Love of Labor grant program and other generous funders. Through our partnership with the Harbor Freight Fellowship Initiative (HFFI), each participant also became an Explore Fellow during their time at LIFT and earned a $250 stipend to use towards future education and training opportunities of their choosing. Many thanks to HFFI, Big Picture Learning, Carhartt, and our many other partners for their collaboration! 
For the first two days, the group was led through a birdhouse build project, and learned to construct shelves and install them onto drywall. During the second two days, participants learned to use a plasma cutter and MIG welder to fabricate metal flowers. After learning the basics of both tools, they were free to design and build a project of their own choosing using the skills they built from the flower. On the last day, participants learned entry level electrical skills; working on demo sections of drywall, they learned to use wire cutters/strippers to wire outlets and light bulb sockets. Some participants practiced using a multi-tool and jab saws to cut the drywall, too.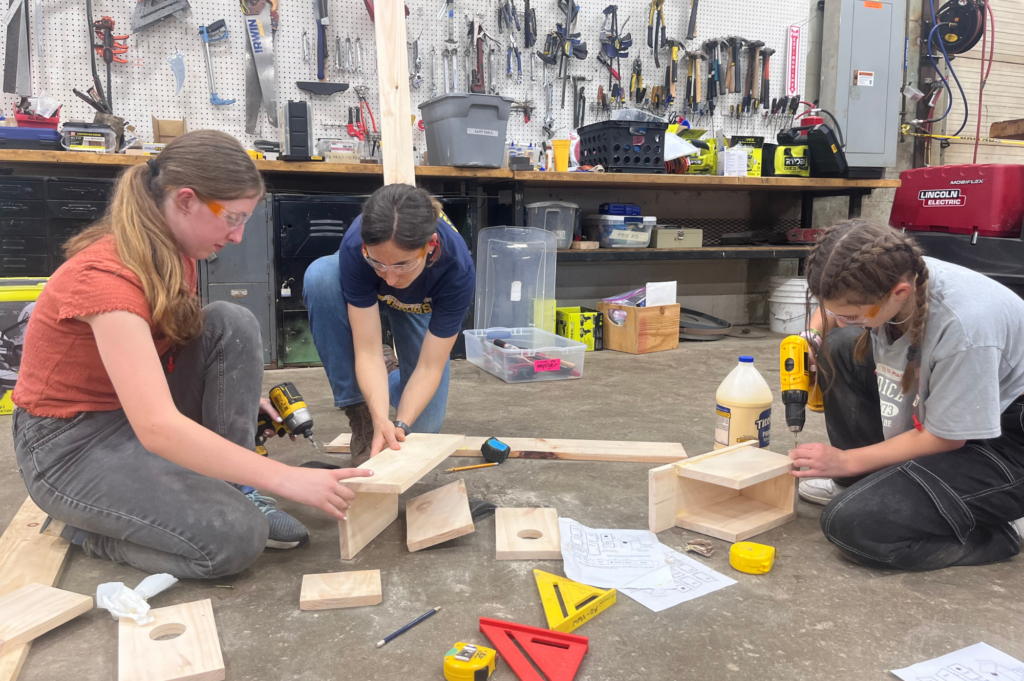 A special partnership with KEEN Utility also allowed VWW to provide each participant with brand-new KEEN work boots of their choosing – everyone LOVED their boots and, consequently, were well-prepared for working in the shop each day.   
When asked what they enjoyed about the week, one participant shared how they liked the opportunity to be creative: "We were able to learn new skills and then have the freedom to create what we wanted using what we had learned." The group also shared how it was different learning in an all-female and gender-expansive environment compared to being at school with boys, and that they didn't feel judged or in competition with one another.   
In addition to projects and shop time, we spent a portion of each day discussing personal development and identity formation topics through a series of social and emotional activities. Participants became more aware of their values, the unique power of their individual voice, causes they're passionate about, intersectionality and its impact on our life experiences, and the importance of how culture and diversity create a richer, more complex and interesting world.  
We closed out the week with a career panel of tradeswomen who spoke about their career journeys, success, mistakes, and lessons learned. Students had the chance to ask questions and soak up advice from women who have made great careers for themselves in the trades. The best advice the panelists shared was to be open to new opportunities and know that your path doesn't have to be linear.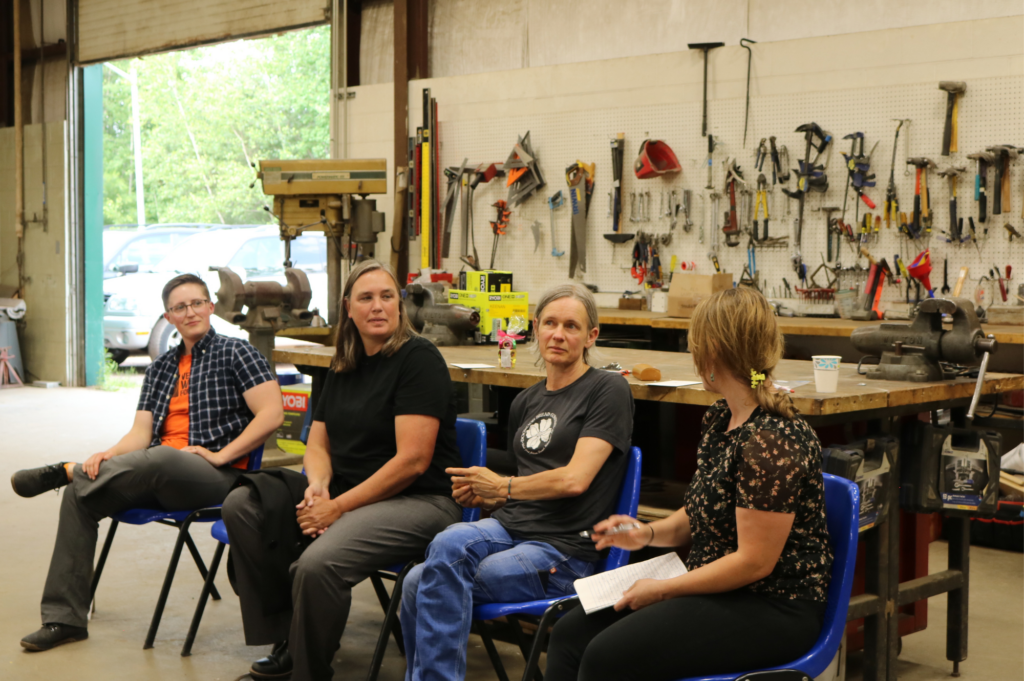 Continued Trades Exploration
All LIFT participants have the opportunity to continue exploring the trades through the Harbor Freight Fellows Initiative (HFFI).  These students are working with VWW and HFFI to secure apprenticeship experiences in specific trades.  
We asked participants to reflect on the week, here are some of their thoughts: 
"I learned a lot about myself and my future, as well as built valuable skills and made projects."

 

"I learned that I can do more than I think I can."

 

"It is cool to learn this kind of stuff. And you don't get this opportunity every day."

 

"I would recommend LIFT to my friends because it's fun and gives us the knowledge of knowing that us girls can do what men/boys do. We can even do better."

 
If you are interested in learning more about LIFT or applying to our next cohort, please contact Caelan Keenan, ckeenan@vtworksforwomen.org  
*LIFT welcomes anyone who identifies as a girl regardless of assignment at birth, including non-binary and gender-expansive youth who are comfortable in a girl-centered space.