Rosie's Girls Afterschool: Update from Winooski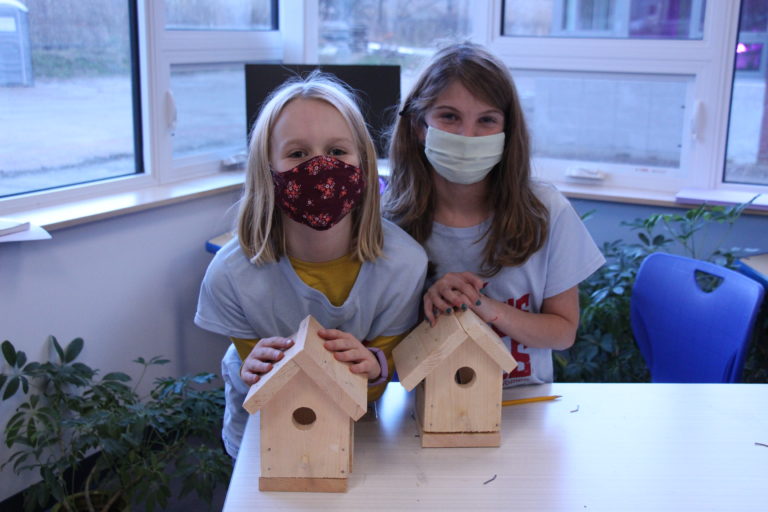 By: Marla Goldstein, VWW's Youth Programs Coordinator
Rosie's Girls is back in action with our afterschool programming at Winooski Middle School. It has been quite a feat to condense our week-long summer camp programming into one-hour increments, one afternoon every week, but we are rockin' and rollin' with it! With attendance fluctuating between 8 and 11 students, Marla and Caelan are grateful for the help of our program assistant Maddy. Maddy typically works with students in the high school and is jazzed to be with a younger crowd for the hour.
We began the program by creating our Team Pact, which stands as our group "guidelines" during our time in afterschool together. We then introduced students to proper tool safety and usage and hit the ground running building birdhouses. Some students have followed the instructions by the book, while others have gone a bit rogue in creating their own experimental structures with the materials provided. A plant holder with a removable roof, for example!
It really is amazing to see the students' different levels of progress as the program days go on. One thing is for sure, this group is curious and excited about using wood-burning tools! With many students already taking mental notes of how they'd like to decorate their birdhouses, it's hard to say what they'll enjoy more: the building or the decorating.
We are so thrilled to be able to run a program locally this semester. It has been tough with the pandemic to get everything organized safely, but the fantastic staff at Winooski Middle (shout out to Suzanne S and Nancy K!) have been nothing but supportive and enthusiastic. We can't wait to continue providing these students with social connections, confidence, and a broad sense of what's possible when they put their minds to anything that they do!
Rosie's Girls is funded by many generous supporters, including Agnes M. Lindsay Trust, Community National Bank, Jane B. Cook 1992 Charitable Trust, Concept 2, Courtney & Victoria Buffum Family Foundation, Langwater Foundation, Lucy Downing Nisbet Charitable Fund, Mergens Foundation, North Country Federal Credit Union, Northfield Savings Bank, Oakland Foundation, Robert Fleming and Jane Howe Patrick Foundation, Rona Jaffe Foundation, and Windham Foundation.