Power Tools are Back in the Hands of Campers At Rosie's Girls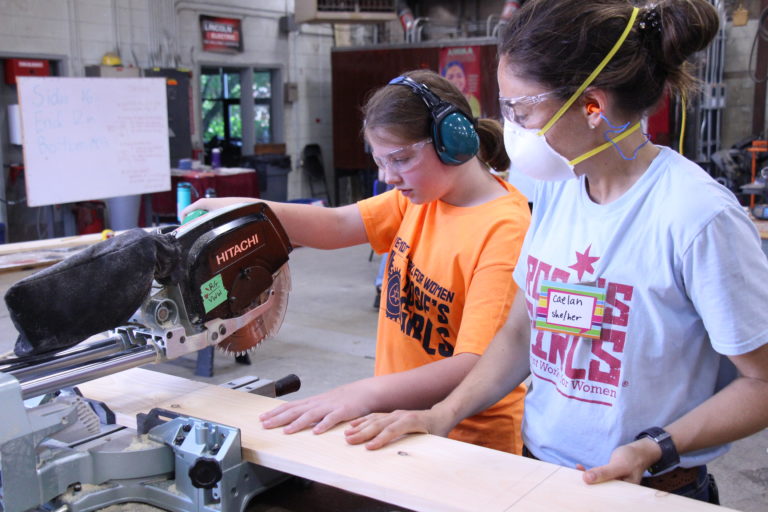 By Elaine Ezerins, VWW Communications and Marketing Manager
This summer, Rosie's Girls camps returned to the workshop, creating a safe, empowering space for middle school campers to use power tools, welding equipment, and a plasma cutter to build and fabricate original creations.
Vermont Works for Women (VWW) held two camps: Rosie's Girls Build at the Center for Technology, Essex and Rosie's Girls Weld at the Central Vermont Career Center in Barre. VWW also partnered with community organizations to host camps in Swanton, Windsor, and Rutland.
Rosie's Girls Build in Essex
At Rosie's Girls Build in Essex, campers first learned workshop safety before picking up jig saws, drills, and working with chop saws to build custom toolboxes and picture frames. Once they learned construction basics with these two projects, campers could build whatever they dreamed up. This could be a shelf, a board game, and even a full-scale doghouse.
Intermixed with project time at camp were Power Skills and fun games. Power skill activities are designed to help campers to develop social and emotional skills that will help them navigate life and relationships.
One power skill that campers in Essex learned was X-ray vision, encouraging people to see and value others' innermost qualities rather than their physical appearance. Campers consider this by deconstructing the values they appreciate in the people they admire the most, and the values the media and businesses tell them they should admire through social media and advertising. Once a Power Skill is introduced, campers are encouraged to practice the skill throughout the rest of their time at camp, and hopefully beyond at home and in school.
Rosie's Girls Weld in Barre
At Rosie's Girls Weld in Barre, campers were initially hesitant to stand close to the welding equipment and plasma cutter which emitted sparks, loud noises, and smells. But, as they began to trust in the safety that the helmet and flame-resistant clothing provided, campers grew more confident and got behind the tables to weld metal picture frames, flowers, and lanterns under the supervision of camp staff, and blacksmith and metal worker Sabrina Fadial.
At the close of each week, campers reflected on all that they learned, and what they hoped to do in the future now that they had technical skills in woodworking and/or welding, and power skills in their social toolboxes. Some campers expressed their intentions to grow the skills they learned at camp to take on more difficult, technical projects.
Other campers said:
"I learned that a woman can do more than most people think they can do."
"I learned that I can use power tools and be more creative than I thought I could."
"I learned about how being yourself is the best thing you can do for you."
By partnering with community organizations, VWW was also able to reach youth in other parts of the state. We partnered with American Precision Museum and Young Inventors' Program to offer Rosie's Girls Invent on Tuesday evenings throughout the summer in Windsor. Expanding our partnership with The Mint, Rutland's Makerspace, beyond our Trailblazers program offering last fall, we hosted two weeks of camp in the Rutland community. And for the second summer in a row, Rosie's Girls was a part of the Swanton community through a partnership with Swanton Elementary School.
Thank you to our instructors, partners, and supporters who made Rosie's Girls camps this year such a success. We cannot wait for the summer of 2023!